About Nin
On a small island in the middle of a shallow lagoon the small town of Nin can be found with its old centre, connected to the mainland by two stone bridges. Nin has had an exciting past and today a lovely present. All its stories, all its beauty and natural wealth are here to be enjoyed and to find joy, health and spiritual satisfaction which are so much needed today.
Nature and Man have made this small town very pleasant for a holiday, interesting because of the rich historical field, as well as excellent for health. It is the oldest Croatian royal town, the cradle of the Croatian state. The smallest cathedral in the world and the coronation Church of St. Nicholas can be found here, as well as one of the word's most beautiful beaches. Nin has a rich cultural treasure, unspoilt nature, as well as remarkably beautiful surroundings.
Nin is the European Destination of Excellence (EDEN). It is well known for its medicinal mud which reliably cures many illnesses. There is a saltworks producing salt before your very eyes and whose tradition is a thousand years old. Touching the big toe on the statue of Grgur Ninski – tradition has it-brings good luck. Indeed, one foreign portal has included it among the ten most attractive world symbols of luck. It is worth giving it a try!
Nin has a thousand stories. One such story is about one of the most well known camps in Croatia, located within a modern tourist settlement called Zaton Holiday Resort. It offers every modern facility and high standards, for which it has received both international and national acclaims and awards.
Nin and its surroundings offers the visitor a fantastic well of experience, an active holiday where the present is interwoven with history resulting in a rich and valuable treasure which is permanently open to the public. Every new day becomes more beautiful than the day before. In a word, Nin has all the visitor may want and need, but definitely it offers more than one would expect. It is a small town where the visitor might have come unexpectedly the first time, but with every new visit a friend can be met who shares the same values.
Nin is an exceptional place. It is an on-going story. Welcome!
Gastro corner
In Nin and its surroundings, there are many restaurants, konobas (taverns), cafés and other hospitality places where the visitor can enjoy the delights of excellent food and wine. No matter whether you choose tasty Mediterranean food dressed with local olive oil or perhaps a speciality from the nearby Nin hinterland, it will be an authentic cuisine from this area enriched by other specialities from other parts of Croatia.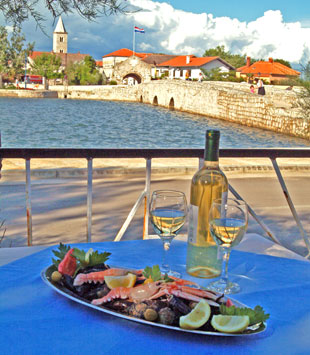 If you would really like to try a well known Nin speciality, we suggest you try "šokol" a dried meat product made from neck of pork conserved in pure sea salt and seasoning. It is given its recognisable taste by a completely unique 'ingredient' that is, the real Nin "bura" (north-easterly wind) which carries with it mountain air enriched with the scents and herbs from Velebit, mixed with the sea air. A competition is dedicated to this speciality called "Ninska šokolijad", (Šokol Festival) in which the aim is to retain the traditional of šokol's preparation and also to offer the enjoyment of this recognisable product to guests themselves. Enjoy it!